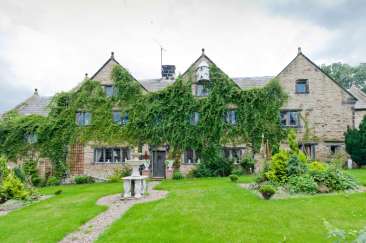 Sleeps: 26
10 Bedrooms
7 Bathrooms
Self Catering Accommodation
Two Hot Tubs
Two cabins – 1 sauna / 1 for bar be queuing
17th Century Country Residence
Visit Britain 4 Star Quality
Trip Advisor 5 star
and awarded certificate of excellence
Indoor heated swimming pool
Dating from the 1600's this small gentleman's country residence is situated in the heart of a farming hamlet with converted barns nearby. Owned by Lord Humphreys, it is a fine example of a Grade-II-listed stone manor house. This magnificent house is full of historical character, and retains a wealth of interesting features with stone mullioned windows, fine old oak beams, heavy oak crux beams, particularly visible in the upper floor, and decorative fireplaces in many rooms. It offers a substantial venue for large families or groups wishing to holiday together. The house is on several levels with interesting staircases leading off in various directions. All of the rooms are of a generous size, but the house has an air of homeliness and comfort. There is a wealth of antique furniture and a number of very grand four poster beds.
The house is between Tupton and Grassmoor. Close by are two post offices, butchers, greengrocers and two mini marts. Also there is a golf driving range, a gym within 2 miles and a snooker and shooting club within 1 mile. There is a golf driving range and golf course within 2 miles and a carp and trout fishing lake 3 miles away. A delivery service for pizza, Chinese and Indian take away is readily available. There are two pubs The New Inn and The Boot and Shoe which serve food and are a short walk away. The Corner Store which is a very nice cafe serving more snacky meals is close by. A caterer can deliver hot meals to Hagg Hill Hall with 24 hours notice. Local attractions are numerous as the Peak District National Park is 3 miles away with its pleasant stone villages, dales, and historic houses and parks at Haddon and Chatsworth. Chesterfield is 3 miles away, Hardwick Hall 4 miles and Matlock 12 miles.
Layout of rooms at Hagg Hill Hall
The house is approached by a long lane through paddocks with grazing horses. Upon reaching the house you are greeted with a lovely entrance, with its stone steps and statues leading to the entrance hall, sets the scene of what delights are to come, upon entering, the cloak room and galleried landing above adds further interest.
On the ground floor there is a magnificent dining room with a working feature fire place where all the guests can sit together and eat. Dine in real style and enjoy the 'Downton Abbey' experience with silver cutlery, wine goblets, elegant serving dishes and candelabras.
Off the dining room there is a large garden room with furniture to seat 20 people to enjoy the Summer evenings. The delightful garden has a hot tub which is a 6 seater with lighting and there is also a 6 seater hot tub which is inside near the swimming pool. Fresh water and filters are installed before every new booking. In addition there is garden furniture, patio heaters and a bar be que for outside dining. There is a heated indoor swimming pool at Hagg Hill Hall, which is for all year round use exclusively for Hagg Hill Hall guests, and a cloakroom off from the pool with a toilet, shower and basin. The pool is 40 x 20 foot and has a 10 foot circular paddling pool. There is 24 hour access to the swimming pool and an extra towel per person will be provided for pool use. A bath robe and slippers are provided.
There are two sitting rooms one with a vast fire place and dog-grate for a roaring log fire, (unlimited logs provided) with a 50 inch flat screen TV, which has a Sky package and DVD built in. In the main sitting room and dining room there is a CD, radio and Ipod dock music system. All of the bedrooms have a flat screen TV with Freeview and DVD built in. The well appointed large farmhouse style kitchen with its built in pantry has all the appliances of a modern home. There is an AGA and also a gas cooker. In the separate utility room there is the laundry equipment.
Exterior of Hagg Hill Hall
Outside there is a patio with garden furniture, patio heaters and an expanse of lawned gardens to the rear of the house. In addition there is a large children's play field and secure parking for 8 cars with a private drive. In the children's play field there is a children's play boat.  It is a 1928 gentleman's river cruiser, which has been totally refurbished for children to enjoy.  Bring your sleeping bag for an adventurous week end. New services offered at Hagg Hill Hall are a timber sauna which is outside and can seat 15 persons and a timber artic cabin, which has a bar be que in the centre, seats 22 persons and allows guests to bar be que all year round in comfort.
Services at Hagg Hill Hall
Gas central heating, log fires in the main sitting room and dining room, and Aga plus gas cooker in the kitchen. A complimentary small bottle of wine and a bottle of Buxton spa water will be supplied in each bedroom. There is a hair dryer in each bedroom.  Fuel and power included in rent, logs supplied, all bed-linen (duvets) and towels included in rent, 2 cots and 2 high chairs, Sky TV with Sky Sports and Formula 1 racing package, DVD, stereo music centre with CD in both lounges, TV's in all bedrooms, washing machine,tumble dryer, American style fridge and freezer plus extra freezer with a beer fridge in the pantry, dishwasher, and microwave oven. Hot tub.  For customers peace of mind a hard wired smoke alarm system has been installed throughout the building plus fire fighting appliances at all levels.  Two dogs only are allowed by arrangement.  There will be a total of three decorated Christmas Trees one in each lounge and one in the dining room at Hagg Hill Hall from the beginning of December through to the New Year. Wi Fi available.   Guests who wish to view the property prior to booking are most welcome.  
Friday to Friday bookings are taken at Hagg Hill Hall.
A £250 Good Housekeeping Deposit is payable and is returned 1 week after departure if all booking conditions are met.
Winter Breaks from November to Easter.
Stag groups are not allowed at Hagg Hill Hall.
Bedrooms: First Floor.
No 1- Family room, (with double four poster bed & two extra single four poster beds) with an en suite bathroom which has a free standing bath and shower cubicle.
No 2 - A double bedroom. The double bed can be split to make a twin bedroom.
No 3 - A double bedroom with a four poster bed and additional single trundle bed, with featured free standing bath and separate W.C. and basin.
No 4 - A double bedroom with a 4 poster bed and 2 single beds, with an en suite with a shower and bath.This shower room is what is called a Jack and Jill bathroom. It has two doors one leading into the bedroom and one onto the main corridor of the house so that it can be used as a family bathroom.
Bedrooms: Second Floor.  At the end of the corridor on the first floor there is a staircase leading to bedroom 5 on the second floor.  There is also another staircase leading to the second floor and to bedrooms 6,7, and 8.  This access to the second floor has twists and turns and a low beam, which makes it unsuitable for the disabled or less mobile.
No 5 - A double bedroom with a 4 poster bed, with an en suite bathroom with bath, toilet and basin.
No 6 - A double bedroom with a four poster bed, and additional trundle bed, with en suite bathroom with a shower over the bath, toilet and basin.
No 7 - A twin bedroom.
No 8 - A double bedroom with two extra single beds for alternative sleeping, with an en suite bathroom with a shower over the bath, toilet and basin.
Bedrooms 9 and 10 are in an attached wing to the main building.
No 9 - A double bedroom
No 10 - A single bedroom. Single day bed in the lounge of the attached cottage.
| | | | | |
| --- | --- | --- | --- | --- |
| Room | Beds | Sleeps | En suite | Floor |
| 1 | 1 double 2 singles | 4 | Yes | First |
| 2 | 1 double /Twin | 2 | No | First |
| 3 | 1 double | 2 | Yes | First |
| 4 | 1 double + 2 singles | 4 | Yes | First |
| 5 | 1 double | 2 | Yes | Second |
| 6 | 1 double | 2 | Yes | Second |
| 7 | 2 single | 2 | No | Second |
| 8 | 1 double 2 singles | 4 | Yes | Second |
| 9 | 1 double | 2 | No | Second |
| 10 | 1 single  1 single  day bed | 2 | No | First |
Facilities
| | | | | | | | |
| --- | --- | --- | --- | --- | --- | --- | --- |
| ✓ | Linen Supplied | ✓ | Towels Supplied | ✓ | Power in Rental | ✓ | Central Heating |
| ✓ | Fridge | ✓ | Freezer | ✓ | Washing Machine | ✓ | Tumble Dryer |
| ✓ | Dishwasher | ✓ | Microwave | ✓ | Colour TV | ✓ | Satellite TV |
| ✓ | Freeview TV | ✓ | Stereo | ✓ | DVD | ✓ | Cot |
| ✓ | High Chair | ✓ | Garden | ✓ | Patio | ✓ | BBQ |
| ✓ | Parking | ✓ | Pets Welcome | ✓ | sauna | | |
Hagg Hill Hall
Tupton
Derbyshire
S42 6JU
We had an amazing week with family and friends at Hagg Hill Hall,. Everything was provided from a superbly warm indoor pool with no less than two hot tubs to good quality towels and bed linen. The house is large enough for everyone, with a choice of sitting rooms and outdoor areas for relaxation. The magnificent dining room is a superb setting for a special meal but for a lazy breakfast you can't beat sitting around the farmhouse kitchen table. Brilliant!
Helen April 2017
Very charming and homely place to stay. Takes a while to get used to steps, low beams, and unusual layout though. Party of 17 all had a great and memorable time. The large dining room was perfect for the special 80th birthday party that we had planned and having doors that opened into the heated garden room was great for party games. The heated pool and hot tub really made the stay extra special. The swimming pool was fantastic no problems at all and always felt lovely and warm even though it was November. The booking process through Derbyshire Holidays was also very good. The owner was very keen to help and it was clear that he just wanted everyone to enjoy their stay. We definitely did and will definitely book again.
Booked the house for 18 adults, 2 children and 1 cat for my 40th Birthday Party and we all had the most amazing time. It was even better than in the pictures, and they're pretty impressive. The house has fabulous facilities - the pool and the hot tub were a big hit - and you can find every utensil and modern convenience you can imagine. Despite the house and rooms being quite grand, they still have a very homely feel and it doesn't take long to settle in. Mel the owner was on hand to help resolve and issues, not that we had any really, it all went swimmingly. We used a local caterer called Lynne Parnell for a Caribbean themed buffet, the food was delicious and the price and service were unbeatable. Everybody said the location and party would be hard to beat, so if you have a special occasion to celebrate, don't delay, book today, you won't regret it.
December 2015
Absolutely fantastic house, surroundings and owner! Just returned after 3 nights away on a hen do, Mel the owner couldn't have been anymore accomadating, Mel even gave the bride to be a lovely bunch of flowers on our departure, we were all provided bath robes, towels, disposable slippers and a glass of wine and water per room, the house really is stunning. Well equipped with cooking utensils and appliances! We had the use the heated swimming pool, 2 hot tubs, plenty of room for all 16 ladies. Would definetly visit again! Fantastic place.
March 2017
I have just returned from a fantastic hen weekend at Hagg Hill Hall! The house is beautiful and the owner could not have been more friendly and helpful. The house easily accommodated all 16 of us from the bedrooms to the massive dining room and lovely large cottage kitchen. The pool room and the hot tub were obviously the most popular rooms, the pool was lovely and warm and the hot tub was great to relax in! The owner has literally thought of everything. We would definitely recommend and a couple of us are thinking of going back with our families. If you are thinking of staying don't think anymore just book you are guaranteed to have a good time.
March 2014
We were given a very warm welcome by the owner on our arrival. Hagg Hill is impressive but not intimidating. We immediately felt at home in the cosy surroundings. We were blown away by the size of the dining table. It was perfect for our posh dinner for 17 guests, which was catered for superbly by Sloans Catering (I would definitely recommend them). We loved the quirkiness and the four poster beds. Everyone appreciated the swimming pool and there were lots of early morning swimmers. The hot tub wears the piece de resistance for a small number of our party. The children in our party had a fabulous time exploring the toy cupboard and watching the enormous T V. Ther are some nice walks from the house too: we walked to Grasmoor Country Park.
March 2014.